E-Bikes & Scooters, Scooter
FOSJOAS V9 Electric Self-Balancing Scooter
---
Super quiet maglev motor
Pioneering design of stoplights
Lithium-ion battery core also used by Tesla
Lighter and tougher magnesium alloy frame
Closed stereo with high quality music experience
$510
Description
Energy!LIMITED LIFE INFINITE VITALITY
When you are still complaining about traffic congestion, others may have well entered into a traffic-free lifestyle. Fosjoas is the most portable and the greenest new form of transportation which has quickly emerged as a must-have gadget among the young and the young hearted.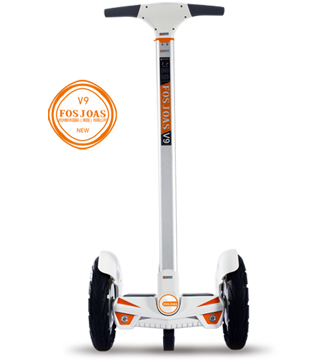 BULIT-IN INTELLIGENT SYSTEM
The intelligent chip is fine-tuned for instantaneous and intuitive control. Based on fuzzy algorithm, aviation altitude control technique, and gyroscope system, Fosjoas can keep itself balanced automatically. The smart protection can monitor the real-time data of the motor and turning angles so as to provide precise and comfortable maneuverability.
Japan-made Lithium-ion battery core
Rechargeable for numerous times, with the battery lifespan 3.8 times and the service time 2.9 times than that of an ordinary lithium battery. Non-flammable, non-explosive, safety guaranteed.
520Wh FAST CHARGE
Fast charger greatly shortens full charging time to 180 minutes for 520Wh
SILICONE BUMPER STRIP
At the back of handlebars, a silicone bumpe strip is added to avoid abrasion against walls.
ERGONOMIC-DESIGNED HANDLEBAR
The handlebar is ergonomic-designed for comfort.
FIVE FEATURES THAT HELP TO ENJOY THE RIDING
1 Super quiet maglev motor
2 Pioneering design of stoplights
3 Sony lithium-ion battery core also used by Tesla
4 Lighter and tougher magnesium alloy frame
5 Closed stereo with high quality music experience
MUSIC COMPANION
Closed stereo with high quality music.Enjoy music whenever and wherever through the built-inwireless interface
Stoplights to make early alert to others Pioneering design to guarantee a safer riding
POWERFUL DRIVING FORCE
POWERFUL YET QUIET
The upgraded maglev motor is super quiet and smaller yet much powerful and energy-effieient.
LIGHT BUT HARD FRAME
The frame is made of aluminum alloy which is light and hard and have good shock absorption ability.
4-INCH WIDE DISPLAY PANEL
BROADER VIEW
Ultra-big LED display panel, replaceable & upgradable, enjoy the broader view
Safety
Speed Control
To prevent injuries caused by speeding, Fosjoas sets a maximum speed. When the speed exceeds 12km/h, the front end of the pedal will rise gradually and when the speed exceeds 16km/h, the pedal will pose a 10° angle to the leveling surface, which stop you from inclining further to accelerate.
Low Battery Protection
When power level falls lower than 15%, the buzzer will beep. The front end of the pedal will sink to force you to decelerate and eventually stop. Please do not attempt to ride again, otherwise you may suffer a sudden loss of power and fall over.
Tilting Protection
When Fosjoas tilts to over 45° sideways, e.g. when Fosjoas turns over, the control system will activate tilting protection. The motor will stall immediately to prevent injuries.
Warning
When the power level falls lower than 15%, the buzzer will beep. When the tilting protection activates, the buzzer will launch long beeps. The control system will stop you from further accelerating.
Performance
Max. Climbing Angel:About15°
Battery Capacity:520Wh lithium battery
Pedal-ground height:223mm
Specifications:1280*613*587mm
Working Temperature:-10℃~40℃
Charge Voltage:AC220V 50-60Hz
Charge Time:520wh about 180min
Technical Specifications
| | |
| --- | --- |
| Brand | Apple |
| Item Height | 18 Millimeters |
| Item Width | 31.4 Centimeters |
| Screen Size | 13 Inches |
| Item Weight | 1.6 Kg |
| Product Dimensions | 21.9 x 31.4 x 1.8 cm |
| Item model number | MF841HN/A |
| Processor Brand | Intel |
| Processor Type | Core i5 |
| Processor Speed | 2.9 GHz |
| RAM Size | 8 GB |
| Hard Drive Size | 512 GB |
| Hard Disk Technology | Solid State Drive |
| Graphics Coprocessor | Intel Integrated Graphics |
| Graphics Card Description | Integrated Graphics Card |
| Hardware Platform | Mac |
| Operating System | Mac OS |
| Average Battery Life (in hours) | 9 |
Based on 0 reviews
Only logged in customers who have purchased this product may leave a review.